Meet WPR member Dale
"I started running in August 2016 because I felt unfit and wanted to lose some weight around my waist. My wife bought me a birthday card for my 51st birthday - it had a snake on it which had eaten a donut – she said it reminded her of my love handles - it bothered me a lot! When I saw an advertisement for Couch-to-5K, I thought my wife would be interested in doing it as she also wanted to get fitter. She said she doesn't like to run in front of other people (unless and until she's really good) but I should do it and let her know how it went.
"So off I went to the first Couch-to-5K session, run by Ards & North Down Borough Council and I really enjoyed it. I enjoyed the gradual introduction to running. The endless encouragement from Ivan and Charise (Coaches from Ward Park Runners) was terrific – they were and continue to be inspirational - "Listen to your body, not your head"; "slicing pizzas"; "I'm off to Lanzarote…again" sound familiar?
"It's worth noting that I was never good at sports, was never chosen to play for a team and never considered myself a runner. As the sessions continued with less walking, more running, I could feel myself develop in terms of general fitness levels and more energy throughout the day.
"I was really apprehensive about the idea of a "parkrun / graduation" at the end of 9 weeks but I really enjoyed the experience and the motivation to improve on my time was a significant factor in making parkrun a regular part of my fitness routine. Since then, some of us who finished Couch-to-5K wanted to build on that experience and not let slip the fitness we had developed. Ward Park Runners has been a fantastic way of doing that - mainly due to its "all abilities, all ages approach". I would encourage anyone wanting to improve their general fitness and to lead a healthier lifestyle to consider running – even if you have never run before.
"I'm still trying to persuade my family to join me but the good news is, I can eat as many donuts as I want (they're actually called "gravy-rings" if you fall into my age bracket)– I just have to keep running."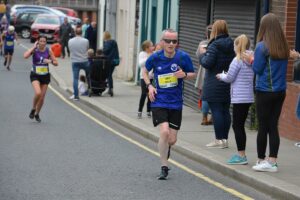 Fiona reaches century of marathons!
Our Vice Chair' Fiona Prue reached a significant milestone last weekend after completing her 100th marathon (or greater distance) event.
A dentist by occupation, Fiona took up running in 2005 and ran her first marathon in Belfast in 2006. Thirteen years and more than 2,600 miles later she clocked up her latest marathon distance at the Energia 24 hour event at Belfast Victoria Park on Saturday and Sunday, running more than 80 miles.
Fiona's marathon career has also seen her take part in the London marathon no fewer than nine times, as well as the Boston marathon and endurance-sapping ultra-long distance events that involve running distances of anything from 60 to 120 miles or more.
Speaking about her achievement, Fiona said: "When I started running I didn't realise just how much of a passion it would become. Equally, when I first ran a marathon, I certainly wasn't aiming to ever run 99 more!
"But I caught the bug in a big way and once I had completed 10, then 20, then 30 marathons, the thought occurred to me, 'maybe I should go for the century.' So I started seeking marathons out to enter them. I also enjoy testing myself in ultra-distance events – it is amazing what your body can do when you really put it to the test. Plus they give me the chance to clock up two or three marathons at a time!
"I am very grateful for the support I receive from my husband and family, as well as friends and training buddies from Ward Park Runners, which has been such a help to me when the going has got tough.
"I'd also like to thank East Antrim Marathon Series for hosting so many great events."
And what about going for 200 marathons?
Fiona laughs, "I'm not ruling anything in or out!"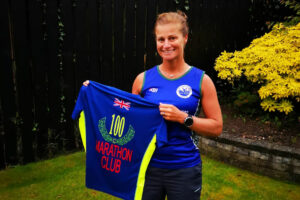 Club member Robert hits the roads in Ballymena
"What else would I be doing on a Wednesday evening? As it turns out, Dawn and the coaching team at WPR had lined up a 400s coaching session, but, Caralyn Scales, Sarah Wilson and I had lined up something else to do: the Five mile road race in Ballymena. Caralyn and I would run the race as part of the Baker McKenzie Super 5's series. For Sarah, it was a warmup for her Mourne Way Half Marathon.
"On arrival it didn't take long to recognise some faces and spark up conversation with other runners – always a good part of any race.
"The race itself was well organised. Marshals with bells and even a tambourine lined the route along with quite a few locals who also had come out to cheer us on.
"Sarah and Caralyn were both initially ahead and running very strongly. It's always a great sight to see WPR tops weaving in and out of the other club jerseys.
"Five miles was completed in what seemed like no time at all. Sarah and I finished within 20 seconds of each other but unfortunately we didn't break the 40 minute barrier. We hadn't set out to do so but when you see a nice round figure like 40 you automatically think, "If only I'd pushed a wee bit more, I could have....". I think that's a question that most runners ask themselves. Caralyn finished strongly also and after getting our breath back we took the customary finishers photo.
"Finally, it was onto the best bit: the food! A spread of sandwiches, cakes, biscuits, doughnuts, tea, coffee, cordial.....I could go on. Definitely my favourite part of any race.
"Well done, Ballymena Runners for staging a fantastic event."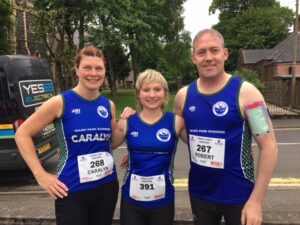 Meet WPR member Carol
"I completed the Dublin marathon in 2016 and vowed I'd never ever do a marathon again. Lo and behold I joined Ward Park Runners in September 2017 and those awful thoughts were pushed aside when on a cold autumn night in October 2018, with a bit of chat with my running friends, the decision was made to enter the 2019 Belfast marathon and give the new route a go.
"People look at me when I tell them I ran so many long miles and loved it, but every word is true. Running with people I met in the club was the key to this enjoyment – miles and time would disappear with the chat and the craic we had.
"I could truthfully say there was only one training run which is very vivid in my mind as horrendous and it was an 18-miler on wet and windy February Friday night. We had all the seasons in that one run!
"I was both excited and nervous about running the new Belfast route but on starting the race the nerves were put to bed! The support from the Belfast crowds was amazing – there was support all 26 miles of the way, everyone encouraging and willing you to do well! The new route was fabulous. I felt I was never too far away from the finish line as it was inner city, and this was also beneficial for family support, supplying me and my running friends (Judith and Roisin) with water and energy drinks!
"I achieved a PB which I'm immensely proud of but this wouldn't have been achievable without all the training at Ward Park Runners and all the encouragement and support from our fabulous and experienced coaching team – no question was ever silly – and of course the support from my running friends as we kept each other motivated throughout the all the training runs.
"For anyone thinking of doing their first marathon: the new Belfast route is brill, stick with the training at WPR and it'll help you achieve your goals!"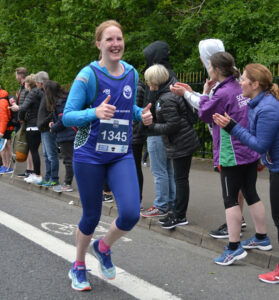 Laura completes London Marathon
"I joined Ward Park runners back in April 2017 (before it was even a club) after taking up running in 2016. As a girl who couldn't run to the end of the street when I first started, each mile was a massive achievement. After catching 'the running bug' I had completed a few half marathons and on a whim, decided to enter into the ballot for London Marathon, where I (like most) was unsuccessful. We then had the opportunity to enter into a ballot for the club place, and much to my surprise, my name was drawn!
"Immediately my thoughts turned to 'What have I done? I'm not a real runner, I could never run a marathon!' Thankfully I have made a number of friends through WPR who had also signed up for their first marathons and we were all in the same boat. I found a training plan, and realised that I might actually be able to stick to it. Fast forward 16 weeks of early weekend long runs, highs, lows and everything in between and I found myself at the start line of London Marathon. The atmosphere was incredible and carried me the whole way around the course – the 26.2 miles were tough but it was at that point I realised, I was tougher. London was an amazing experience, but not something I would have even considered doing without the support of the WPR coaches and club mates. Now, when can I sign up for the next one?"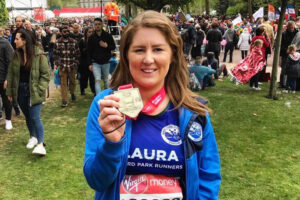 Meet WPR member Stuart - ex rugby hooker
"I was a rugby player all my life but in 2015 I found that injuries and the years spent toiling in the front row had taken their toll and decided to switch to running as a way to keep fit, having tried it on and off previously. Combining it with yoga has enabled me to really progress, running twice a week since May 2018 and in Aug 2018, having spotted people wearing Ward Park Runners vests at Bangor parkrun, I joined WPR.
"At that time I was taking part in a series of 11 races in 9 weeks for Men Against Cancer. One of the highlights of those runs was the Cave Hill 5 mile race. I lived at foot of Cave Hill for 26 years but never did I think about running over it until then. I took it on the day after completing the Bangor 10km – it was tough on the legs, but I loved it, the weather was perfect and the views were stunning. A passion for trail running and particularly hill running was born that day even thought I couldn't run another step for the next week.
"Since, I have been back to the Cave Hill (in a blizzard) and up Slieve Donard (50mph winds) as well as some night edition trail races and regularly seeking out "elevation gain"(Strava!) around the streets of Bangor. I find trail running is more forgiving for the stouter gentlemen!
"Joining WPR has helped me lose a stone in weight since last summer and the camaraderie and positivity around the club is infectious. It's great looking out for the vests at races, as well as giving and getting encouragement from teammates."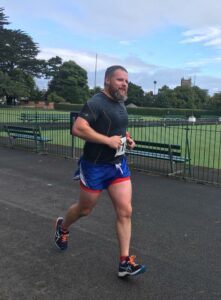 Meet WPR member Joanne
"I have been running for over 15 years as a hobby but became slightly bored of it a few years ago until in October 2017 my running buddy invited me to go with her to Ward Park Runners, a new running club in Bangor. I am not one for clubs or gyms but I went along and can honestly say I haven't looked back.

"The club is growing and I think the reason for this is that you are made to feel so welcome from the first night. The expertise and enthusiasm of the coaches and the support of the runners is amazing.

"I go every Monday and Wednesday night (I don't think I've missed many nights!) and with all types of runners taking part and fantastic coaches giving advice I look forward to going whatever the weather.

"Since joining WPR at the end of 2017 my love of running has returned and I have run 9 races, 3 of them being half marathons. I especially enjoy and value the company and camaraderie of other club members at the start and finish lines, and the support around the courses.

" I'm looking forward to my next race, the Larne Half Marathon in late March, and I will be wearing the WPR vest with pride 💙 💚"
Terry Murray - Ultra Runner.
"Last One Standing has fascinated me since I first heard of it after joining WPR in August 2017. I knew about marathons and halfs, but the concept of running a loop of 4.2 miles, starting on the hour, every hour, for as long as one could, was a new one on me. And I had to try it.

"I was fine for three loops but the fourth was tough. It was nothing to do with distance, as at that point, I was some way off a mileage PB. Rather, it was the thought of all the loops looming large in my near future. I had hoped to do twelve, totalling 50.4 miles. At eight loops, I was seriously considering pulling out, but I finished that one in good time, had some food and realised I still had at least one more in me.

"I'd heard many times that the strength to succeed in this sort of event is in the head rather than the body. Intellectually I got that. After my effort, I actually understood. In the dark, in the wee, small hours, it's about getting beyond the boredom and the aches and pains, to keep going. Or once you think you're done, deciding whether or not you can live with the decision to quit. Will you regret it the following day?

"I completed nine loops, running 37.8 miles, almost continuously. I am very happy with myself. I'm a middle-aged, Joe Bloggs-type runner. But now I'm those things and an ultra runner! There's another one in six months..."
Meet WPR member Yazmin.
"This week marks two years since I started running with WPR, and I can honestly say joining was one of the best decisions I've ever made. I've always had a love/hate relationship with running and completely gave it up about a year before I joined. However, WPR has taught me to love the sport again, thanks to the amazing coaches and runners and their endless support. I now find myself actively counting down the days to training!

"Ward Park Runners have taught me a lot and the members of the club never fail to motivate and inspire me to push myself. I wouldn't be the runner I am today without them. I can't thank the club enough for the past two years – here's to many more!"
Meet WPR member Mary S.
"After my husband died in early 2017, I joined WPR and it was one of the best things I've ever done. The support from the coaches and other runners is amazing and there is great camaraderie and fun each session. The training has really helped to improve my times in both parkrun and over longer distances.

"I started running many years ago when I was 29 and completed 2 marathons in 1992 and 1993. I wasn't in a club at the time and just trained on my own. I continued to run over the years, but just for fun and didn't participate in any more races. In 2015 somebody recommended parkrun to me, it was only then that I got the desire to improve and run more often.

"Since joining WPR, I enjoy representing the club and have had some success, winning prizes in my age category, as well as an award in the 2018 Novosco Grand Prix.

"My goals for 2019 are to continue to improve my times in the 5k and 10k, run a few half marathons and to complete the Belfast City Marathon in May.

"My husband John often encouraged me to join WPR. I like to think he would be pleased that I did and proud of what I've done during the last year."
Meet WPR member Andrew.
Andrew took up running in August 2018 after taking part in a race for charity.

"Once I started, I quickly realised how enjoyable running is, and so wanted to keep it up. I wasn't going to improve by plodding along the carriageway by myself, so in October, I joined Ward Park Runners.

"I have thoroughly enjoyed the expert coaching ,which is a great help, as well as the support, encouragement and good craic from the other members.

"My goal for 2019 is to improve my 5k and 10k times, then move up to a half marathon.

"So far, I have really enjoyed taking part in the Born2Run race series. They are really well organised, and their races are so scenic. Plus, the post-race picnics are worth enduring a bit of pain for.

"I am looking forward to running some flat road races this summer. I am now properly addicted to running and WPR is certainly helping that!"
Meet WPR member Sarah.
I took up running 4 years ago after a chance conversation prompted me to sign up for Couch 2 5k. It's still hard to believe that running is now such a big part of my life. I was never sporty at school!

I started training with WPR 2 years ago when the club was just getting off the ground. It's been amazing to watch it grow and to see how far it has come since then. This photo, taken at the Born2Run Drum Manor 10k, is special because I'm wearing the WPR vest for the first time ever after transferring from my previous club in Belfast.

I feel very proud to be representing WPR and I look forward to many more adventures with the club in the years to come!
Kick-starting 2019!
Ward Park Runners got the year off to a great start with an impressive turnout at parkrun. New Year's Day is the one time of the year when it is possible to run two parkruns in one day. Not one to be missed by keen runners.

Our destinations of choice this year were Stormont parkrun (09:30am) and Orangefield parkrun (11:00am). With some runners choosing to run the 2.25 miles between the two.

With over 35 WPR making the trip, that was more than we could squeeze into the bus hired from Compass Coach Travel.

Written by: Oran Kane